First, verify that your computer Bluetooth device supports Low Energy. If your Bluetooth device does not support Low Energy, the Logitech MX Anywhere 2 Bluetooth mouse will not pair and the instructions below will not work.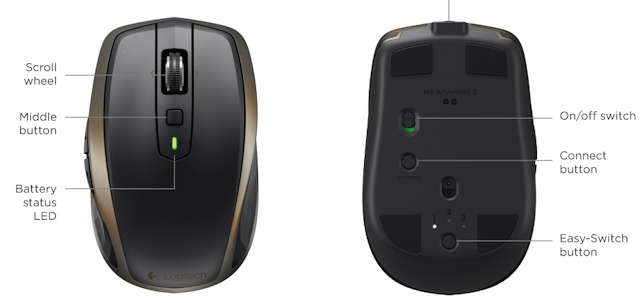 Why is the Logitech MX Anywhere 2 Bluetooth mouse the best mouse?
Ratcheting or free wheeling scroll wheel

Dedicated Middle Mouse button to easily perform X windows copy and paste

Easily switch between up to three paired computers.

Most of all, tracks on almost any hard surface - including glass tables
Enough introduction. Let's get connected!
Broadcom Bluetooth chipset instructions
Become root using the su - command. Note that the dash is required since we will be using programs residing in the sbin sub-directories. Then follow the instructions here to install the firmware manually.
Important Notes
Firmware for individual Broadcom chipsets can be obtained here.

The firmware file name must match exactly what was detected missing by your kernel from the dmesg command output.

The required firmware (.hcd file) must be placed in directory /lib/firmware/brcm.

Note that the /lib/firmware/brcm directory does not exist and you will have to create it.

If you don't feel comfortable installing manually, a Debian package is available here. Note that I installed manually and have not tested this package.
If you installed correctly, you should have an entry in you dmesg output that looks something like this after reboot..
bluetooth hci0: firmware: direct-loading firmware brcm/BCM20702A1-0a5c-21e8.hcd
Connect the Logitech MX Anywhere 2 Bluetooth mouse
Follow the instructions here. If you followed the instructions correctly and had success, the Logitech MX Anywhere 2 Bluetooth mouse will automagically connected to your computer every time you boot up - no initialization steps needed except to power the mouse on.